How to Get Your Group Fitness Certification
If you are considering getting your group fitness certification here are a few statistics that backup your decision:
Over 22 million attend group fitness classes each year[

*

]

85% of group fitness members visit their facility twice a week[

*

]

Two out of five gym-goers are involved in group exercise[

*

]
As you can see, a group fitness certification, or having group fitness instructors at your gym, spells dollar signs.
Although you probably don't need any more convincing about getting a group fitness certification that will allow you to find gainful employment in an exciting industry, you probably are looking for some information on how to get your group fitness certification.
Below, we have provided info on the exact steps as well as some information on the top group fitness certifications out there. There's even a little bonus about section group fitness certifications versus personal trainer certifications that I think you'll find quite interesting (hint: you can become a certified personal trainer and train in a group setting (but not vice versa)).


How to Become a Group Fitness
Instructor in 5 Steps
Here are the steps to become a group fitness instructor. There may be some variation on these steps depending on the certification body you go with, but for the most part, these steps are fairly standard no matter which group fitness certification body you go with.
Get Your Group Fitness Instructor Prerequisites
Before you can sit for a group fitness instructor exam, most certification bodies require the following:
Be 18 years old or older

Have a high school diploma or equivalent

Have a current CPR/AED certification

Possess a government-issued photo ID
By far, the most popular place to get a CPR/AED certification is through the American Red Cross. It is not the only option, but tends to be the most convenient. You can find a Red Cross CPR/AED class near you on their website.
Worth noting, is that you need not have all of the above prerequisites in place when you begin your group fitness studies, only when you sit for the exam. For example, you can start studying and obtain a CPR/AED certification along the way.
This brings us to our next step, finding a group fitness certification program that is right for you.
Choose a Group Fitness Instructor Certification
One of the most important steps in becoming a group fitness instructor is choosing the best certification for you. Now, there really is no such thing as the "best group fitness certification," as this is a highly subjective decision.
There are a number of factors that may make a group fitness certification more appealing to you such as cost, length of program, CEU requirements, prestige of brand, job requirements, and convenience.
One area of group fitness certifications that is not subjective is the accreditation body. The gold standard in a group fitness certification is a program accredited by the National Commission for Certifying Agencies (NCCA). The Distance Education Accrediting Commission (DEAC) accreditation is also gaining some clout, and is held by ISSA.
ACE Certified Group Fitness Instructor
ACE offers NCCA accredited group fitness courses ranging from $299 to $599 (at the time of this writing). The final exam takes place at an administered location and the coursework can consist of videos, podcasts and webinars, depending on the program you register for. ACE is one of the largest name's in fitness and boasts that their trainers benefit from agreements they have made with popular gyms such as 24 Hour Fitness, Anytime Fitness, Orange Theory, Crunch Fitness, and others.
ACSM Certified Group Exercise Instructor
The ACSM Certified Group Exercise Instructor (ACSM-GEI) course is prided on its educational approach to intentional planning around science-based group sessions as well as motivational and leadership techniques that make training fun and effective. While ACSM claims it is the "gold standard" in group fitness certification, it is not currently an accredited certification option.
AFAA Certified Group Fitness Instructor
AFAA has perhaps the most outstanding reputation in the group fitness certification arena. Not only is the cert NCCA certified and been in existence for nearly four decades, but is also a partner of NASM (NASM acquired AFAA in late 2017 which is why you won't see a standalone NASM group fitness course).
AFAA courses range from $299 for self-study, to $399 for premium self-study, to $499 for an all-inclusive package with a job guarantee. On the NASM website, however, the certification is mentioned as an add-on continuing education course and has a reduced price of $224, $299, and $374 for the options mentioned above, respectively (at the time of this writing).
ISSA Specialist in Group Fitness Certification
The ISSA Specialist in Group Fitness certification is an online course that offers a self-paced study regime. As mentioned before, this is the only certification body that is accredited by the DEAC, which is a less prestigious name in the accreditation space, but nonetheless a national accreditation. At $799, it is by far the most expensive group fitness certification on this list.
NCCPT Group Exercise Instructor Certification
The NCCPT Group Exercise Instructor (CGxI) credential is a self-proclaimed "entry level specialization certification" that is likely intended to be an add-on CEU for existing certified personal trainers rather than a standalone certification like many others on this list. It is also amongst the cheapest at $199 for the exam-only package, but ranges up to $299 for additional study and preparation materials.
NESTA Certified Group Exercise Instructor
NESTA's Group Exercise Instructor Course is 100% online and is one of the most affordable options for group fitness certification at $275. While highly convenient and amongst the least expensive group fitness certifications, The NESTA GEI is unaccredited, so many gyms may be a bit more discerning while hiring for this certification.
NETA Group Exercise Certification
NETA's Group Fitness certification is amongst the three in the country that have earned NCCA accreditation. While the program doesn't benefit from the brand power of ACE and AFAA (the other two accredited options), it does have a strong curriculum and multiple study options ranging from $239 to $299. The live workshop study option is popular as it allows students to attend a workshop with an experienced NETA educator.
Once you familiarize yourself with these brands and choose one that works for you, you can move on to the next step.
Schedule Your Exam and
Continue/Begin Studying
With most group fitness certifications you can purchase your study materials (and begin studying) before you schedule the exam. Many programs, however, require that you register for the exam within a specific time period after the purchase of the study materials.
ACE, for example, requires you to register for your exam within six months of the materials purchase date. With AFAA, you have 180 days from your enrollment date to take the certification exam.
These certification bodies require these timelines for a variety of reasons. First, they want to set that psychological goal in your head to start and finish the program in its entirety. Secondly, they make money on the study materials and the exam, so it makes sense that if you were to buy study materials, you would take the exam.
Group Fitness Exam Study Tips
While the exams of each certification body vary in difficulty and materials covered, there are some standard study tips that can help you get through all the studying in time for the final certification exam.
As a former college professor, I recommend the following approach to studying for the group fitness exam:
Use the target test as a marker and work backwards from that date to determine how many chapters you need to cover each week/month.
And here's a study fast track system that works really well for those who like to knock things out fast:
Read one to two hours per day to maintain a solid flow of comprehension

Create chapter-by-chapter notes from the book to utilize the benefits of writing and reading

Reference study guides for hand-picked topics of reference

Take practice tests after you read each chapter

Quiz yourself on 5-10 chapters of your book every two to three weeks

Reread your chapter notes and build upon them based on your quiz and test results

Document the questions you miss in the quizzes and revisit those sections of the book

Take a quiz every day of the week leading up to the exam

Take an entire practice exam, write down the questions you missed, and revisit them again

Take the final certification exam when you consistently get 85% or above on practice exams
Once you are prepared for the exam, it is time to knock it out!
Pass Your Group Fitness Exam
The most obvious step in getting your group fitness certification is passing your exam.
But this necessary step only happens if you put in the time to learn the materials, understand the concepts behind them, and get the certification in your hand.
After you do this, you'll be ready to start a career as a group fitness trainer!
Get a Job as a Group Fitness Trainer
Do you already know where you want to work? Are you going to start your own fitness club or perhaps get a job as a contractor at several?
Related: Check out this post on personal trainer salaries to see which gyms pay the most.
Once you have your certification in hand, you can begin to peruse the web for group fitness trainer openings, check in at your local gym, or visit the websites of gyms to see if they post active positions.
Gyms aren't the only places that hire group fitness instructors though, so don't limit your job search to these locations. Spin, yoga, and pilates studios are some of the other well-known locations to get a group fitness job. The rare country club gig or super rare cruise line job may also open up from time-to-time.
In many cases you may have to get an additional certification (ex. Spin instructor) or go through an internal training program at your place of employment.
There are also specialist programs that you may be interested in to truly hone your craft. For example, AFAA has an indoor cycling speciality course, and ACE has a Functional Aging Group Exercise specialty course. The specialization you choose largely has to do with the demographic you enjoy working with.
CEUS: Maintaining Your Group Fitness Certification
In an effort to help trainers maintain their education and the health and safety of their clients, continuing education units (CEUs) are required by every reputable certification body. The amount you need depends on the certification body, but these CEUs are not just a tool to help you maintain your certification, they are also opportunities to expand your knowledge of health and fitness.
Bonus: Group Fitness Certification VS Personal Trainer Certification
A lot of aspiring group fitness trainers will also consider a personal trainer certification and weigh the options between each. There are some important considerations that aspiring trainers from each career option should take into account.
The first, and perhaps most important consideration, is that you are able to train group fitness classes with a personal trainer certification but are generally ineligible to train individuals at most corporate settings with a group fitness certification.
This may sway some trainers towards choosing the certified personal trainer route and considering a group fitness specialization or CEU as they can train groups and individuals.
The other important consideration for aspiring trainers is the potential income from each type of training — personal training or group training. This has a lot to do with your involvement as a trainer with your clientele.
If you are a group fitness instructor, you generally have to showcase the exercises as you teach (i.e. workout with your group), making man's/woman's physical limitations a factor in terms of financial gain from multiple group fitness sessions per day.
On the other hand, a personal trainer can provide guidance to multiple clients each day without having to physically exert themselves. For the entrepreneurial trainer, this may make the decision to get a CPT a more decisive one.
Granted, group trainers usually make more than personal trainers on a per session basis, but personal trainers can easily conduct five or more sessions per day whereas a group fitness trainer may be limited to two due to the physical demands of teaching.
Become a Group Fitness Trainer Today
Now you have a good idea of what the steps are to become a group fitness instructor, recognize some of the top certification bodies, and even know that you can become a certified personal trainer and train in a group setting (but not vice versa).
If you are ready to advance your group fitness career, start by knocking out your prerequisites. From there, find a group fitness certification that works for you, study hard, pass your exam, and find your dream job.
Personal Trainer Career Roadmap
Best Personal Training Certification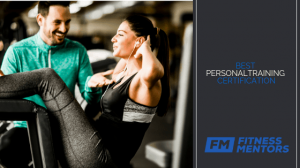 How to Become a Personal Trainer in 5 Simple Steps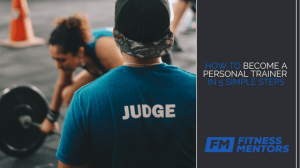 How to Become an Online
Personal Trainer in 2020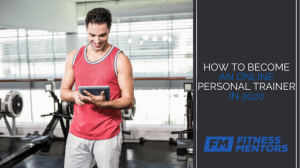 Top 5 Exercise Science Careers