Best Personal Trainer Certification of 2023
To help aspiring personal trainers choose the best personal training certification, we've put together a list of our top picks as well as (mostly) objective criteria we believe trainers are most concerned with. 
With multiple certification options available, we've made it simple to understand some of the major selling points of each certification and why it may be beneficial to you, the future personal trainer of the world.
While there really is no "best personal trainer certification," there are different factors that may better resonate with certain people.
Before we dive in, if you're looking to be a part of a community of coaches and trainers building their careers, join our discord, here.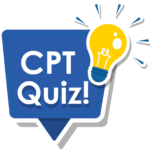 What Cert is Best for You?
We designed this quiz to help you choose the perfect certification based on your learning style and goals.

Why I am qualified to recommend top personal trainer certifications
Hi, I'm Eddie Lester, the founder and CEO of Fintess Mentors. I've been a personal trainer for nearly two decades and have eight personal training certifications. In addition, I used to be a personal trainer certification teacher at a vocational college making me highly familiar with the educational materials and learning styles of each major CPT body and prospective students, respectively.
We, Fitness Mentors, were the first company to cover this topic in-depth and one of the few that actually have experience with all the certifications mentioned here. Other websites that cover this topic offer very little substance in terms of actual experience, making this guide the best of its kind on the web.
A Quick Look at the Best Personal Training Certifications in 2023
Best Personal Training Certification Reviews
International Sports Science Association (ISSA)
Summary: I've weighed factors such as accreditation, price, curriculum, CEU requirements and more to provide this review of ISSA. With all of these factors considered (and more weight placed on certain factors such as cost and curriculum), ISSA is our current top pick for the best personal training certification for 2023. 
Their certification provides a job placement guarantee, sets you up to train in-person and in online environments, and is the most highly rated certification as indicated by third-party reviews on this list.
Prices listed are non-promotional, full-price, non-member prices.
ISSA stands for The International Sports Sciences Association. Founded in 1988 by a team of fitness experts and exercise scientists, their personal training certification is recognized worldwide.
Once a student takes and passes the ISSA exam, which covers a wide array of fitness topics, you are qualified to offer fitness and personal training services. Exam topics include Anatomy & Physiology, Kinesiology and Biomechanics, Health and Physical Fitness, Nutrition, and General Fitness.
The ISSA CPT is my top pick for a personal trainer certification program compared to other options available for a number of reasons.
First off, the ISSA's certification program places a strong emphasis on both theoretical and practical knowledge in the personal training field. This includes an extensive curriculum that covers topics such as nutrition, program design, exercise science, and business principles.
Moreover, the ISSA's certification program is accredited by the Distance Education Accrediting Commission (DEAC), which is recognized by the U.S. Department of Education. Such an accreditation may lend additional credibility to the certification in the eyes of prospective clients or employers. The CPT also provides an opportunity to get a certification by the National Commission for Certifying Agencies (NCCA), the gold standard in certification bodies.
Furthermore, the ISSA provides a range of specialized certifications in areas such as corrective exercise, strength and conditioning, and fitness nutrition. This may appeal to individuals who seek to develop their skills and knowledge in a particular area of personal training.
Finally, the ISSA offers ongoing resources and support to its certified personal trainers, such as access to a network of professionals in the fitness industry and opportunities for continuing education. Such assistance can enable trainers to remain current with the latest trends and research in their field and may contribute to their success as personal trainers.
Best for entrepreneur & online trainers, & lowest cost
Summary: Originally known as a study guide provider for NASM and ACE, Fitness Mentors decided that it was time to provide better value to the personal trainer of today. This meant creating an original curriculum and certification that catered to online training and trainers who sought an entrepreneurial route.
With a certification focused on mastering all the roles of a personal trainer – business owner, coach, scientist of the body, and mentor – it is unique in that it is specifically catered towards program design and business success. As the lowest cost personal trainer certification, it is also a viable option for those looking to get started with minimal investment.
Prices listed are non-promotional, full-price, non-member prices.
The Fitness Mentors CPT is the new kid on the block in terms of training certifications, giving it an edge in terms of curriculum without the brand recognition of the bigger players.
It is known for being the best value certification around, while boasting the highest exam pass rate due to the company's background in education. What separates Fitness Mentors' certified personal trainer certification is their excellent customer service and included lifetime expert guidance as well as business coaching.
It is Fitness Mentors' view that to be a successful personal trainer today, they need to know program design and fitness fundamentals, but also important business growth and marketing principles. Whereas other programs tend to focus on programs and exercise physiology, Fitness Mentors provides that education and more at an unmatched price and with human support.
National Academy of Sports Medicine (NASM)
Summary: As an aspiring personal trainer, there is a good chance you've considered a NASM certification to add to your list of professional accolades.
There's good reason too, NASM is considered to be a global leader in credentialing fitness professionals, and their wealth of certifications will prepare you for a promising career in personal training or one of their other areas of specializations.
Prices listed are non-promotional, full-price, non-member prices.
NASM stands for the National Academy of Sports Medicine, a 30-year old company best-known for their Certified Personal Trainer (CPT) program. Within the last 10 years, NASM has certified and recertified more personal trainers than any other personal training company, helping nearly 200,000 obtain, or maintain, their CPTs all across the globe.
NASM is also NCCA-accredited, meaning they have the National Commission for Certifying Agencies credentials, the first standards ever developed to ensure a fitness certification body has the essential elements of a high-quality program.
NASM has pioneered what is called the Optimum Performance Training (OPT™) model, a comprehensive training system that is heavily versed in scientific, evidence-based research. According to NASM, the emphasis on science makes OPT ideal for program design and delivering consistent results.
American Council on Exercise (ACE)
Summary: ACE is NCCA accredited, meaning the National Commission for Certifying Agencies has identified its coursework as reputable and meets the criteria for what is considered a high-quality program within the personal training industry.
This also means that this CPT gives you a high likelihood of getting you a job within a gym.
Prices listed are non-promotional, full-price, non-member prices.
The American Council on Exercise (ACE) CPT is one of the most popular of the personal trainer certifications, with our research indicating that there are over 13,100 tests taken each year.
The cost of ACE's study materials and test are a bit higher than most with the cheapest study package and test sitting at $599, whereas some of the other CPTs fall around the $500 range.
While slightly more expensive up front, ACE looks to be a good investment as the average income of an ACE personal trainer is amongst the best in the industry.
ACE also has modest continuing education (CEU) requirements. Trainers are required to take 20 hours of CEUs and the current cost is $129 to recertify every 2 years.
Best for training athletes
National Council on Strength & Fitness
Summary: The National Council on Strength & Fitness (NCSF) is an NCCA accredited certification from a reputable company known for its focus on exercise prescription and programming considerations. They are middle of the road in terms of cost and amongst the lowest in terms of exam pass rate.
A popular choice amongst those who don't enjoy continuing education, their 10 hours every two years makes them a strong consideration from a time and investment perspective. 
Prices listed are non-promotional, full-price, non-member prices.
The National Council on Strength & Fitness (NCSF) CPT is a globally recognized certification that is known for its emphasis on training athletes.
With both online and in-person exam options, they boast the industries largest exam network that encompasses over 160 countries. This network is popular amongst trainers outside the United States who want to be sure their credentials are respected wherever they are in the world.
Additionally, NCSF maintains memberships with industry-leading health clubs, facilitating career opportunities for trainers who are focused on gym environments.
What to look for when choosing a personal trainer certification
Watch Our Video: Best Personal Trainer Certification
Want to know which certification is right for you? Take our Quiz by clicking here.
We put together the following factors based on feedback from existing personal trainers and found as much data as possible so we could quantify our research:
Accreditation: most gyms only accept personal training certifications that are NCCA, NBFE or DEAC – recognized so this is an important factor for aspiring trainers. These certifying bodies are considered the gold standard for fitness certifications.
Price: includes the cost of the test and the cheapest study materials.
Pass Rate: the total test takers divided by the passers.
Expected Study Time: this is the time you have to take the exam from the time you purchase the study materials.
Number of Test Questions: all tests are multiple choice, and we report on the amount of test questions for each exam. We also cover the total time allotted as well as the minimum passing score.
CEU Requirements: amount of Continuing Education Units required to maintain certification.
Popularity of Certification: indication of the amount of people who have a cert and take the test every year.
Primary Focus of Education: while this topic may surprise some, each program varies slightly in what their education process concentrates on teaching you. This information is pulled straight off their catalogs.
Average Income:

average annual income from reputable sources.

Retake Fee: if you fail the exam the first time, the price to retake the exam again.
Want to know which certification is right for you? Take our Quiz by clicking here.
Check out our infographic that covers the objective items mentioned above. Below the image is a list of all the items with a breakdown.

Best Personal Training Certification: An Objective Look into 10 Key Criteria
Below we summarize the data contained in the infographic, diving into highlights from each section, explaining why some companies vary so much, and giving an honest assessment of why each of the companies ranks where it does.
We also include a "Personal Trainer Takeaway," from me, a longtime personal trainer who has worked in almost every facet of the business (big box gym, one-on-one, group fitness, business owner, etc.). This section is a bit more subjective, but will help you consider some things that a purely objective analysis might not.
In some instances, we were not able to find data for each of the certifying bodies and we made estimates. This estimated data is not presented in the infographic but we make mention of it here.
Accreditation standards are developed by several third-party credentialing organizations to maintain a level of professionalism within the fitness industry. These designations showcase that a certification body has created a high-quality program that ensures the safety and wellbeing of the public. Fitness certifications that wish to be accredited have to submit their programs and final exam to be evaluated on an individual basis. This ensures that they meet the highest standard and validates that the aspiring trainer has the competency for entry level employment.
With the exception of AFAA, every personal training certification body on this list has the option for a National Commission for Certifying Agencies (NCCA) accredited exam, which is the gold standard for fitness certifications. This is important to trainers because most gyms will only accept personal trainer certifications that are accepted by an NCCA-accredited body. So, if you are like many trainers who want to jumpstart their career by working in a gym, you may want to avoid a cert that is not NCCA-accredited.
If you are looking for a more entrepreneurial route other than working in a gym, the FM-CPT is known for having the most business emphasis in their education. ISSA does have additional accreditation with Distance Education Accrediting Commission (DEAC) and National Board of Fitness Examiners (NBFE), and is accepted at most gym chains.
Personal Trainer Certifications with the option for NCCA Accreditation:
Personal Trainer Certifications with National Board of Fitness Examiners (NBFE) Affiliation
Personal Trainer Certification with DEAC Accreditation: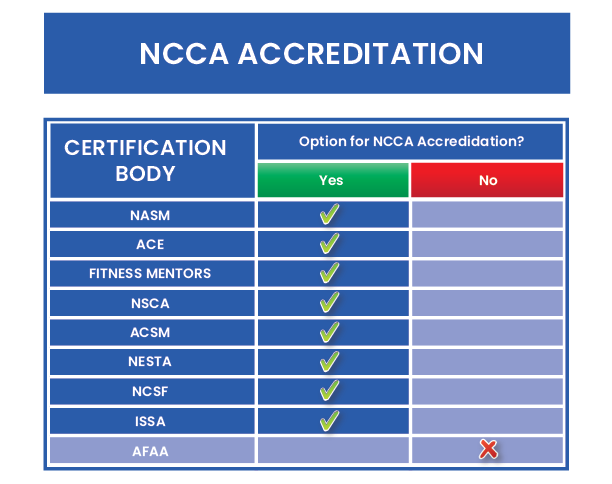 Personal Trainer Takeaway:
Be sure to check with your top employment options to find out which certifications they accept, as that may limit your certification choices. For example, if you have a friend that works at 24-Hour Fitness and says he can get you a job if you get certified, get a list of the certifications they honor so you know you'll be a shoe-in.
Similarly, if you plan on working at a smaller shop with other personal trainers, inquire with them first if they will accept the personal training certification you are leaning towards. Bottom line, determine where you want to work, then see if those places have requirements on the types of PT certs they accept for employees.
Most of the personal trainer certification bodies are between $600 to $1,000 for the exam and the study materials. Many of these companies offer periodic discounts, and some offer membership pricing.
For the least expensive yet highly reputable option, the Fitness Mentors CPT at $499 is a popular option. The only other sub-$500 option is AFAA, also at $499.
NASM is an expensive option, but frequently goes on sale. ACE is also on the upper end of the pricing spectrum, but they too offer frequent promotions.
Prices listed are non-promotional, full-price, non-member prices.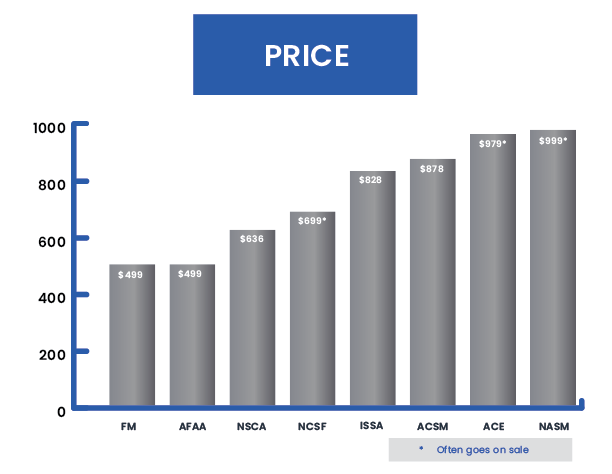 Personal Trainer Takeaway:
You should determine what matters most to you: prestige or cost? If you want to go with a more recognized name in the industry (NASM, ACE) it will cost more. If you only need an inexpensive, accredited certification for quick employment or for the entrepreneurial route, look toward the less expensive certifications (Fitness Mentors, AFAA).
However, also consider CEU requirements, income, as well as the above accreditation factors before you pull the trigger. While price may be the most important factor to you, all the factors on this page may influence your final decision beyond your initial investment.
The cert with the best pass rate is Fitness Mentors at 89%, while ACSM, at 54%, sits on the bottom end. 
There is no data on the Pass Rate for the AFAA because they are rebuilding everything to get NCCA accredited.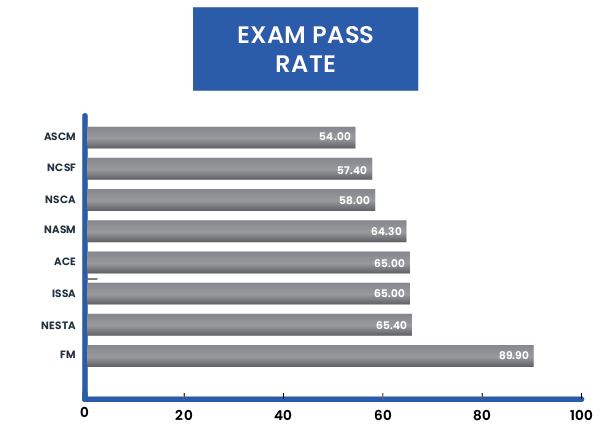 Personal Trainer Takeaway:
Some tests are much harder than others. If we use pass rate as our main reference point, it would appear that ACSM, NSCA, and NCSF have the most difficult tests. This can mean these tests are the hardest to pass or the educational experience provided is not sufficient in preparing students for the subject matter on the test.
Or, it could mean these tests tend to focus on more difficult subjects like anatomy, physiology and biomechanics. The study experience — books, study guides, practice exams, access to instructors, etc. — from fitness organizations can vary widely. The feedback from students is that some study curriculum does not fully prepare a student for a final exam as well as it could, while others find that the preparation materials provided fully prepare them for the final exam. This is why students often use third-party educators like Fitness Mentors to provide education for multiple certification exams like NASM and ACE.